Coatings, Shipping and Field Erection
Our capabilities extend beyond design and fabrication to include the shop coatings, delivery and installation of your project. Our large site and 67,000 square foot facility provides the flexibility to efficiently stage work, with a 450 foot drive-through truck lane for accessibility. Capabilities are matched to your needs, wether a single critical part of, or a complete production sequence.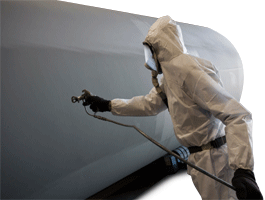 Coatings
The Society for Protective Coatings (SSPC) has recognized Landmark's technical skills and processes with their prestigious QS-1 certification, which recognizes and validates our internal quality control and audit process – it is analogous to an ISO certification. Landmark is honored to be one of only eleven companies worldwide that has earned this certification. Our crews can deliver factory-applied quality in the shop or on your site, with complete mobile capabilities. Our customers can rely on our stringent internal quality measures resulting in superior coating installation.
Shipping
Landmark Fabrication can manage shipping and staging of completed components to your facility or site, with extensive material handling capabilities, the ability to provide custom shipping fixtures, and access to specialized trailers. Our strategic North Texas location allows for quick highway and rail access for transportation ease.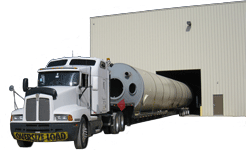 Field Erection
Landmark Fabrication's roots in specialty contracting provide a wealth of field erection experience, including site preparation, process planning, safety management and interfaces with local service providers. Our experienced, fully mobile crews are fully equipped to handle virtually any tank erection and repair including civil, steel erection, steel repair and piping systems. Our crews can go anywhere to implement your projects — another example of our ability to provide end-to-end services, concept to completion.

For more details on the Landmark team's engineering and field erection capabilities, visit the Landmark Structures site at www.teamlandmark.com/capabilities